Originally presented in Digital 3D
The Contra Costa Wind Symphony, Duane Carroll, Conductor. Running time: 22 minutes
Four movements separated by short breaks of silence under black
Sentinel of Time was commissioned to celebrate land conservation successes by the nationally accredited land trust conservation group, Save Mount Diablo. It premiered at the Lesher Center for the Arts, Walnut Creek, California on November 6th, 2013. The work was performed live as stunning 3D widescreen images of Mt. Diablo Park, shot by renowned nature photographer, Stephen Joseph, were projected overhead. A 2D version of the entire presentation is prestented above.
Orchestra and Wind Symphony scores with parts are available. Images are optional but can also be licensed. For information, please contact us.

I. Grand Rock of Ages (0:00) Majestic panoramas of the 3,848' mountain and surrounding 90,000+ acres of parklands.

II. Things Old, Things New (7:56) The numerous and varied noble trees of the park, many standing solo against wonderous panoramas.

III. Eternal Spring (12:02) A romantic waltz through the area's springtime rolling hills filled with California Poppies and other wild flowers.

IV. A Place for All Seasons (16:07) The dramatic seasonal changes of the mountain through wind, weather and time, including scenes of the dramatic "Morgan Fire" of September 2013 which burned over 3,000 acres.
Photos courtesy Stephen Joseph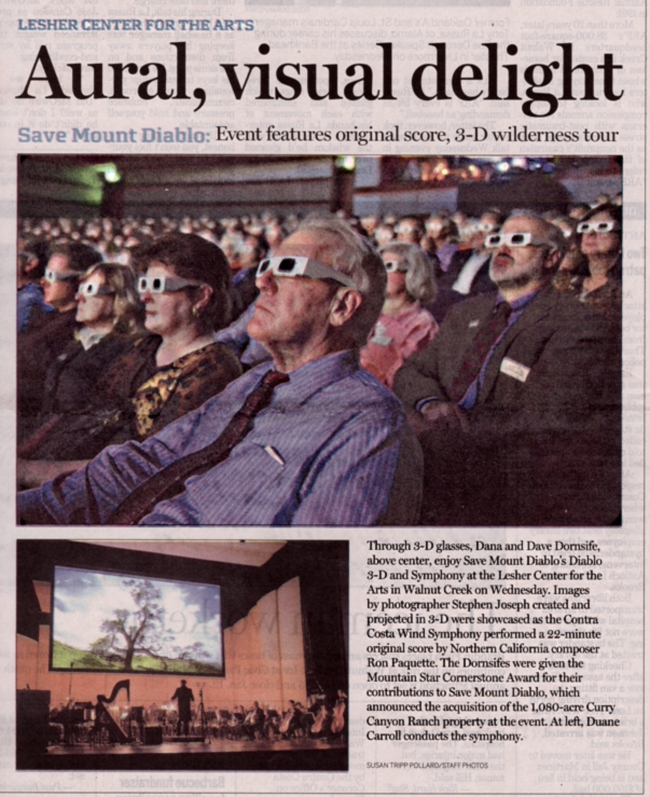 Enlarge
3D projection setup